The unique café shops in Saigon with many different decorating styles are ideal places to meet friends or to have a date. It is also the place which can bring unforgettable feelings of Ho Chi Minh City to visitors. For tour and hotel in Ho Chi Minh City (Saigon), you can contact with www.evivatour.com to explore Ho Chi Minh City. And here are some famous café shops in Saigon:
1. Bond's coffee shop
Located on the Hoa Hao, District 1, Bond's coffee shop is impressed by large banner depicting some popular anime characters. Step into the shop, you will be surprised with thousands of models of the comic characters are decorated on the walls, on tables, chairs. Familiar characters like Doremon, group of 5 friends Nobita, Shizuka, Gouda, Xeko, Dekhi , monkey Songoku, virtual singer Hatsune Miku, Batman , Spiderman, Superman are exhibited in a corner of the shop. The second special feature is that you not only can see the comic character, taking pictures but also can buy them but the price is pretty high.
Address: Bond's coffee shop, 372 Hoa Hao, Ward 5, District 10, HCMC.
2. Wheel House Cafe
If you are a fan of the movie series "Cars" or a collector of cars, motorcycles models so the Wheel House coffee is a perfect destination. You will have the opportunity to contemplate thousands of different vehicles, such as the super car of 007 agent – James Bond, cars in Fast Five or simple cars which are often used daily.
Wheel House is also attractive with "Graffiti" painting on the walls and windows … The most interesting thing is that you can use the furniture which is designed like wheels and car-frame.
Address: 116 Suong Nguyet Anh, District 1 and 313 Nguyen Trong Tuyen, Ward 10, District Phu Nhuan
3. Coffee Ộp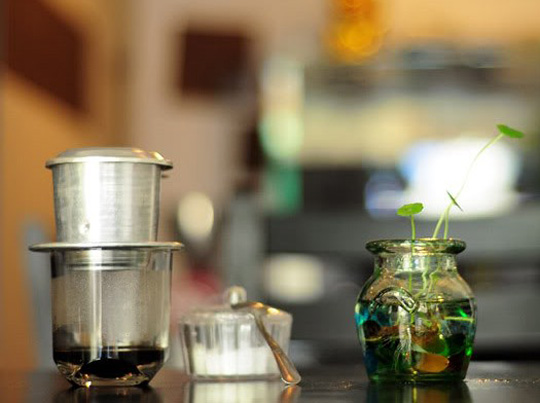 Located on a small road that cannot be found on Google, Café Op is small and simple with two different spaces. One is the external courtyard with a few wooden chairs and another is indoor space with closer seats, cozy and friendly. Besides, the shop is known for perfect quality of coffee.
To reach that quality of cafe, Café shop only receive café directly from factory. After delivery, café is made up, mixed and sold just in the first 15 days and from 16th, coffee will be replaced by a new order. Therefore, you can enjoy all the taste from aroma, acidity to bitterness of coffee.
Address: Coffee Ộp R12 Ba Vi Street, Ward 15, District 10, HCMC
4. Ich Coffee
Coffee Ich was built with the idea of an environmentally friendly café shop which based on criteria such as saving electricity, using recycled wood, planting greenery.
Ich Café has comfortable seats,. Trees and vegetables are planted on the walls and under the seats. For every bill more than 30.000 VND, the shop will give guest small green pots so they carry home and grow them.
Address: Ich Coffee 62/1 Truong Cong Dinh, 14 Ward, Tan Binh District, Ho Chi Minh City.